Note: Most of the words in this post are direct or slightly modified excerpts from the brilliant lyrics written by Lin-Manuel Miranda for the musical, Hamilton. This analysis is based on the portrayals of Burr and Hamilton in the musical.
PSYCHOLOGICAL REPORT
Names: Aaron Burr, Alexander Hamilton
Ages: 48 (Burr), 47 (Hamilton)
Education: Bachelor's degree from College of New Jersey/Princeton; theological, military, and legal training (Burr), Bachelor's degree from King's College/Columbia; military & legal training (Hamilton)
Date of Session: July 10, 1804
Therapists: Katie Gordon, Ph.D., Brandon Saxton, M.S.
Presenting Problem
Alexander Hamilton's wife, Eliza, grew concerned when he said that he "had an early meeting out of town." Hamilton's disagreement with his long-time frenemy, Aaron Burr, had recently escalated, and she was suspicious that this meeting might actually be a duel. She insisted that Hamilton and Burr attend a therapy session to resolve their conflict peacefully. Eliza told him that she felt helpless after losing their son in a duel and that he owed it to her after burning her with the whole Reynolds Pamphlet ordeal. Hamilton couldn't say no to this.
We started the session by walking up to the two men in the waiting room and asking one of them, "Pardon me, are you Aaron Burr, sir?" To which he responded, "Alexander Hamilton. My name is Alexander Hamilton." After getting clarity on who was who, we introduced ourselves and invited them back to our office to further assess the problem. During the interview, we did not find Burr to be forthcoming on any particular stance. He'd glance off, obfuscate, and dance. Meanwhile, Hamilton did not equivocate on his opinion; he wore it on his sleeve.
Apparently, the heart of the conflict was that Burr wanted desperately to be in "the room where it happens" and blamed Hamilton for his losses in the Presidential election of 1800 and the New York Governor election in 1804. Specifically, Burr believed that Hamilton's public attacks on his character swayed these elections. Hamilton's criticisms of Burr included saying that he had no principles and acted in an opportunistic, self-interested fashion. He called him "amoral" and a "dangerous disgrace."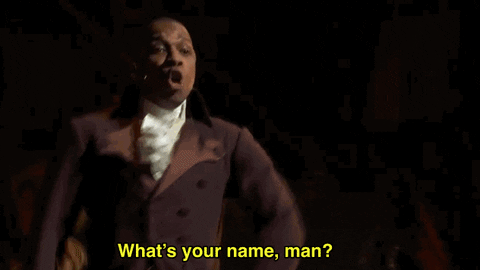 History
Burr's grandfather was a fire and brimstone preacher; his mother was a genius; his father commanded respect. Tragically, both of his parents died when he was a young boy. When asked how he managed without them, he replied, "I'm a trust fund baby, you can trust me." He was raised by relatives and reaped the benefits of their wealth, including access to an excellent education and connections with powerful people. After graduating in two years from college, he fought in the Revolutionary War. He was romantically involved with a married woman named Theodosia, whose husband was fighting on the British side in Georgia. Ultimately, he and Theodosia married (after her husband died) and had a daughter, who he referred to as "Dear Theodosia." Burr practiced law and was active in politics as a Senator and Attorney General. The highest office he held was the Vice President of the United States from 1801-1805. The fact that Burr was born into financial and societal privilege may have influenced his life philosophy to wait patiently for opportunities to arise before acting on them. By working hard and avoiding huge public errors, he believed he could maintain the status and wealth he was born into and use them as a foundation to achieve even greater political power.
Hamilton presented as a bastard, orphan, son of a whore and Scotsman, dropped in the middle of a forgotten spot in the Caribbean by providence impoverished and squalor who grew up to be a hero and a scholar. When he was 10, his father split, full of it, debt-ridden; two years later, he and his mother were bed-ridden, half-dead sittin' in their own sick, the scent thick. Hamilton got better but his mother went quick. He moved in with a cousin, who died by suicide. Left to fend for himself, he got a job for his late mother's landlord trading sugar cane and rum and all the things he couldn't afford. By 14, he was in charge of a Trading Charter. Then, a hurricane came, and devastation reigned. He wrote a letter describing the hurricane's impact, and it was so beautifully stated, that the people in his town took up a collection to send him to the mainland to get an education and nurture his talents. Like Burr, Hamilton graduated from college, fought in the Revolutionary War (Hamilton served as Washington's right-hand man), practiced law, and was active in politics as the first Secretary of Treasury for the United States. He married Eliza Schuyler, after meeting her at a winter's ball, and they had eight children together. Their oldest son, Philip, died at a young age in a duel. The fact that Hamilton was born into a stigmatized position at the time (i.e., being born out of wedlock) and into poverty may have influenced his life philosophy to persistently pursue his dreams without inhibition. By fervently seeking out chances to ascend in society and working non-stop, he believed he could attain status, wealth, and political power only by working a lot harder than others, by being a lot smarter than others, and by being more of a self-starter than others.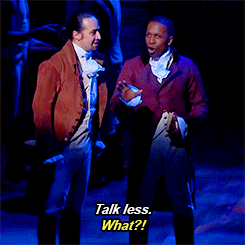 Diagnostic Impressions
After an evaluation, we concluded that while Burr and Hamilton share many qualities, the areas where they differ led them to the point where they were considering a duel. An analysis of these overlapping and divergent qualities are depicted in the Venn diagram below:
Treatment Recommendations
To our knowledge, there are not any evidence-based strategies for duel prevention. However, we intervened by explaining to Burr and Hamilton that participating in a duel would negatively impact them and interfere with their personal goals. We told Burr that killing Hamilton would hinder his ability to be in the room where it happens. We hoped that this would motivate him to find an alternative approach to handling the conflict. Similarly, we told Hamilton that duel participation would increase the likelihood that he would actually "run out of time" before establishing the legacy he desired, and we reminded him, "history has its eyes on you."
We experienced resistance from Burr, who argued that he looked back on where he failed, and in every place he checked, the only common thread was Hamilton's disrespect. His overwhelming blame of Hamilton for all of his thwarted plans formed a significant obstacle to duel dissuasion.
Similarly, Hamilton wasn't willing to decline the duel invitation. Hamilton's personality rarely involved backing down from positions or challenges. Indeed, when Burr asked him for an apology, Hamilton responded with, "Burr, your grievance is legitimate. I stand by what I said, every bit of it. You stand only for yourself. It's what you do. I can't apologize because it's true."
To this, Burr replied, "Then stand, Alexander. Weehawken. Dawn. Guns drawn."
Status at Follow-up
Burr shot Hamilton in a duel the day following our session, and Hamilton died the day after that. Hamilton's legacy was planting seeds in a garden he'd never get to see. and he is remembered as a ten-dollar founding father, hero, and a scholar. Meanwhile, Burr became the villain in your history books. When Burr was asked if he had any regrets, he said that he now understood that "the world was wide enough for both Hamilton and me." We would have strongly preferred that Burr had that revelation before killing Hamilton.
THE GORDON/SAXTON TEST
Was the portrayal of mental illness accurate?
Lin-Manuel Miranda was not portraying characters with mental disorders. However, his depictions of Burr and Hamilton appear both psychologically and mostly historically accurate. Miranda went to great lengths to examine historical records and consult with historical experts when he created Hamilton. He took some artistic liberty for the sake of storytelling and this approach resulted in fascinating, relatable characters.
Was the character struggling with mental health issues depicted with compassion?
Miranda depicted his characters with great compassion. Burr is generally remembered as a villain and Hamilton as a hero, but Miranda went beyond that simple dichotomy of good versus evil and presented two realistic characters with both redeeming and irritating qualities.
Overall rating: On a scale of Darwin Award to EGOT, we rate the Hamilton depictions of Burr and Hamilton as EGOT!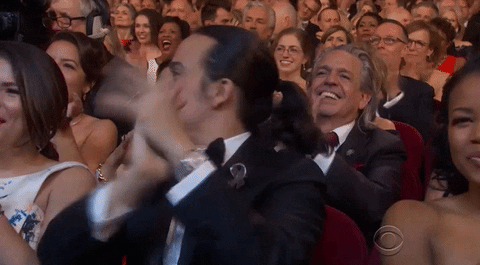 ---
The Room Where It's Happening is an awesome Hamilton fan podcast! You can check it out here.
If you'd like to read 10 Hamilton Quotes for Therapists, you can click here.